Welcome to Resume World®
Professional Resume Writing Services
Since our inception 30 years ago, Resume World has assisted tens of thousands of clients worldwide to secure meaningful positions and advance their careers throughout their professional lives. Our clients work for Fortune 500 corporations and some of the largest companies in the world, including top Canadian employers across a wide range of professions and industries.
Within the past five years alone, we have assisted 8,671 middle management clients, 4,336 new graduate/entry level clients and 2,891 senior executives to find great jobs by delivering compelling resumes that got them into the doors of top employers.
Our commitment to being at the forefront of new ideas and innovation in hiring technology and best-in-class corporate hiring practice means that we deliver the best thinking and strategies to our clients. We are experienced in virtually every profession and industry and employ our experience to determine exactly what will open doors to a better future for you.
Each of our Resume Writing Service starts with an in-depth assessment of your experience, skills and career goals using the (Strategic Resume Development Model) below to create a compelling resume and cover letter(s) that best represent your unique skills and value to potential employers. Care is taken to ensure the integrity of the information on your resume and cover letter(s) so you can discuss your experience with confidence at the interview. The resumes and cover letters we deliver not only open doors to interviews, but also job offers for our clients across the globe. Email us info@resumeworld.ca or just give us a call (we open 9:AM to 5:PM, Monday to Friday) for a free consultation 416.438.3606.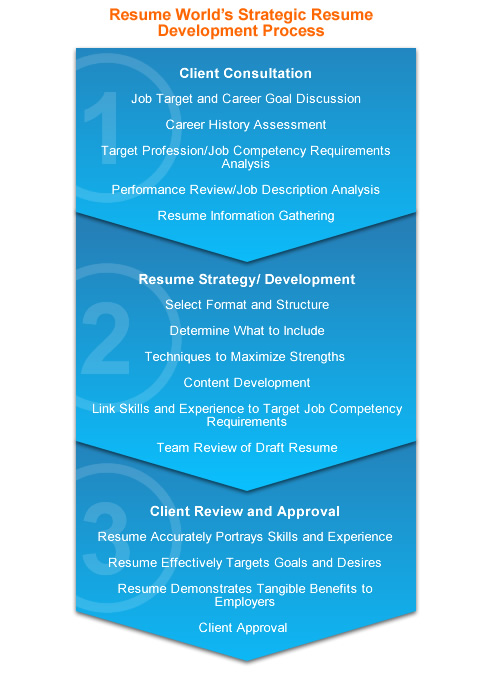 Testimonials
"I am a Registered Nurse and was introduced to Resume World 8 years ago. As a result of the brilliant resume that was so professionally prepared by Resume World's Certified Resume Writers, I was not only granted an interview in a hospital in the U.S., but my resume afforded me a distinct advantage over the competition which secured me a coveted position in the U.S. market place. I am now back at Resume World seeking an interview once again."